Duralco 4460 - Resist Electricity, Radiation, Chemicals and Moistures.
No volatiles. Low odor. No VOC's
Duralco 4460 is a Low Viscosity superior adhesive coating material. It is formulated with polymer system wihch forms a protective coating performing highly resistant to chemicals, electricity and moistures, in high temp. upto 315°c.
It is 100% solid system and very low shrinkage.
Duralco 4460 can forms ultra thin bond lines and is ideal for impregnating, coating and encapsulating.

This Unique Polymer System can be used up to 600°F after a heat cure at moderate temperatures(4hrs at .120°c).

Users Report :

1) 4460 is making Thin but strong Bond Lines. Transducers are bonded with 0.0005" of Duralco 4460 provided strengths of 2000 psi at 400ºF.
2) 4460 is good to impregnate into fine structures
It is used to impregnate composite cloths to form custom high temperature, high strength wave guides.
It penetrates tightly wound wire coils for electronic high temperature applications.
Successfully encapsulates induction coils of high temperature pressure sensors.
Seals and protect cables end seals against corrosion and high heat.
Applications of 4460 Includes bonding, sealing, encapsulating and protecting cable end seals, thermocouples, strain gauges, critical electronic components, electric heaters, flow meters, glass lined tanks, etc. Duralco 4460 is Commonly found in aerospace, electronic, appliance, instrumentation and equipment applications.

Duralco 4461 : 260°c.
ROOM TEMP CURING, LOW VISCOSITY EPOXY

Ultra thin bond lines/Sealing porous materials
Impregnate fine structures/Forms protective coating

Duralco Low Viscosity Adhesives are formulated with Cotronics' unique polymer system to provide the ultimate in high temperature chemical, electrical and moisture resistance. They are user friendly, 100% solid formulations. No volatiles. No VOC's. No harsh odors.
Duralco 4461 is a free flowing, liquid adhesive it has excellent adhesion to metals, plastics, ceramics, glass, etc. and ideal to forming ultra thin bond lines, coatings, impregnating and encapsulating applications.

Duralco 4461 is cured at room temperature and resists chemical, solvent and corrosion up to 260°c.
It is an ideal choice for high temperature applications in electronics, optics, instrumentation, to get protective coating for coils, filament windings, electronic parts, etc.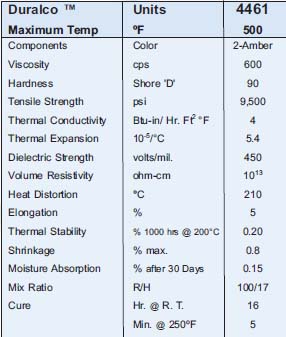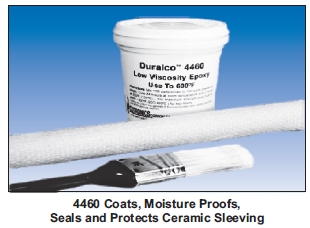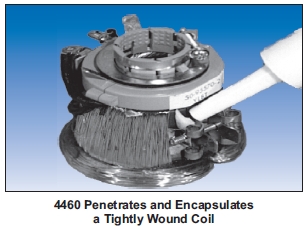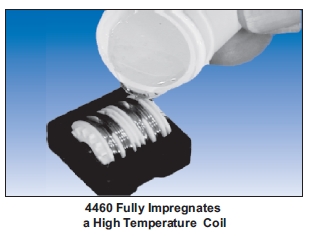 Duralco 4461 Users Report:
-Fiber Optic Cables consisting of 3,000 glass strands were encapsulated, and bonded with 4461 in a 1/8" stainless steel tube. The low viscosity of 4461 enabled full penetration in and around the fiber strands. 4461 Bonds optical components and protects them from moisture absorption and transmission. Also, 4461 Pots a transformer for high temperature service.