Duraseal 1531 - Continuous use to 650°F
Seals pipes, flanges, stacks and high temp. equipment. No special surface pre-treatments are necessary. Adheres to most metals, glass, ceramics, plastics, etc. Fills in voids, forms flexible gaskets and repairs. Provides a long lasting flexible seal, use from - 80ºF to 650ºF.

Applications include: high temperature sealing, gasket forming, vibration isolation, etc.

Users Report:
Cotronics' designed custom packages of Duraseal 1531 to be used with field installation kits. The specially sized tubes saved suppliers time and money while providingtheir customers a simple method to assemble parts.
Duraseal 1532 - Continuous use to 500°F
A clear thin putty with excellent spreadability.
Excellent electrical insulation properties allow for a host of applications in cables splicing, electrical isolation, repair, potting, etc.
Ideal for use as high temperature adhesive, electronic, waterproofing, sealing, impregnating, coating or vibration dampening application.
Users Report:
Duraseal+ 1532 provides high dielectric insulation and moisture proofs cable splices in field assembly joints. A thin, clear layer of Duraseal 1532 moisture-proofs porous ceramics, improving the electrical resistance and providing use up to 500ºF.
Duraseal 1533 - 5 Minute Casting Compound
New, unique Duraseal 1533 flows into the finest cracks and crevices to form stress free bonds, coatings and encapsulations. Easy to use 1 to 1 mix ratio. Just mix and pour. No need for difficult degassing procedures. Duraseal 1533 will cure in 5-15 minutes at room temp.
1533 can be used from -70 to +550ºF and offers flexibility, excellent mechanical properties and resistance to chemicals, solvents and moisture.
Meets stringent UL 94V-0 flame retardant requirements.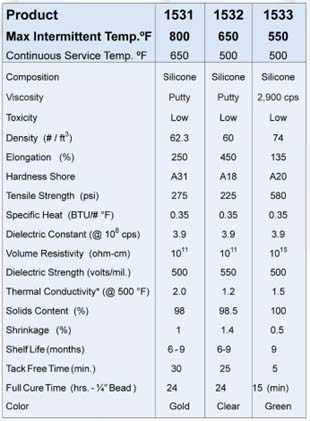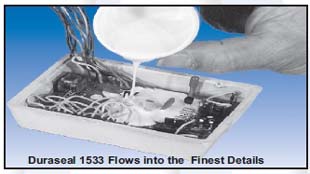 Applications include: producing finely detailed molds, encapsulating electronic components, forming flexible parts and stress free potting.